Many people are enjoying the benefits of an outdoor sauna since its design can easily elegantly complement your garden.
Besides, an outdoor sauna is more efficient than indoor and portable ones.
The outdoor sauna will also save you the costs associated with building a room for one indoors and further cut down on costs you would have incurred subscribing to your local gym.
Manufacturers of saunas have also upped their game by producing different brands that come in varying shapes, sizes, and use high-quality cedarwood and Canadian hemlock wood in their construction.
Do you hate relaxing in your sauna indoors and the trouble of assembling and dismantling your portable sauna every time?
With popularity shifting from relaxation indoors and the need to create more space in the house, outdoor saunas couldn't have come at a more convenient time than now.
To a layman, an outdoor sauna is the same given the many brands currently available on the market.
If you are shopping for a sauna, the many brands on the market, coupled with marketing gimmicks employed by manufacturers can make it hard to tell the best outdoor saunas from the fake ones.
This article brings you six of the best outdoor saunas available on the market that will give you value for your money when you purchase them.
Best outdoor sauna
#1. Editor's Choice: Audra Cedar 4 Person Traditional Steam Sauna
#2. Honorable mention: Pinnacle 4 Person Traditional Steam Sauna
#3. Watoga Cedar 4 Person Traditional Steam Sauna
#4. Salem Cedar 2 Person Traditional Steam Sauna
#5. Huntington Cedar 6 Person Steam Sauna
#6. Princeton 6 Person Traditional Steam Sauna
Top outdoor sauna reviews
#1. Editor's Choice: Audra Cedar 4 Person Traditional Steam Sauna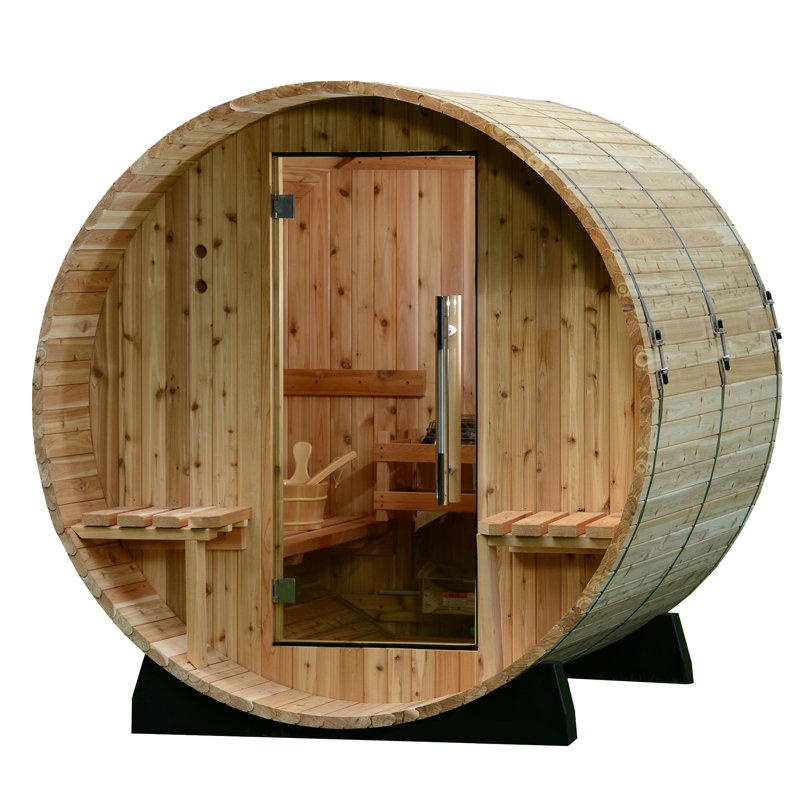 Features
Has LED lighting included
Weight: 750 lb
Maximum capacity: 4 people
Source of heat: traditional steam
Warranty: yes
This outdoor steam sauna uses a ball and socket design, safely held in place using fasteners and steel bands.
With this kind of design, the Canadian hemlock wood staves have room to expand with an increase in heat and contract with the reduction in temperature, thereby forming a tight seal.
The outdoor sauna is hoisted by two cradles supports made of a polymer, which helps to suspend the undercarriage of the outdoor sauna off the ground.
This outdoor sauna achieves efficiency and even distribution of the heat by taking advantage of the design of a canopy barrel sauna.
It matches your needs conveniently by offering you a place to place your towel, drinks, and other personal stuff you may need as you relax.
Besides, it gives a beautiful view while inside the sauna and provides a sitting place outside that you can use for cooling off as you do multiple sessions.
You do not feel enslaved while inside the outdoor sauna courtesy of the optional window that gives you a panoramic view of your surroundings.
The outdoor sauna comes with heater stones giving you the option of having your relaxation the traditional way of a wet or dry sauna.
It comes with a heater with inbuilt controls and the heater is mounted on the wall allowing you to set your preferred heater duration.
PROS:
Comes with additional accessories such as timer
Wall sections are easy to assemble
Provides two opposite benches both on the interior and exterior
CONS:
Not ideal for moving around
#2. Honorable mention: Pinnacle 4 Person Traditional Steam Sauna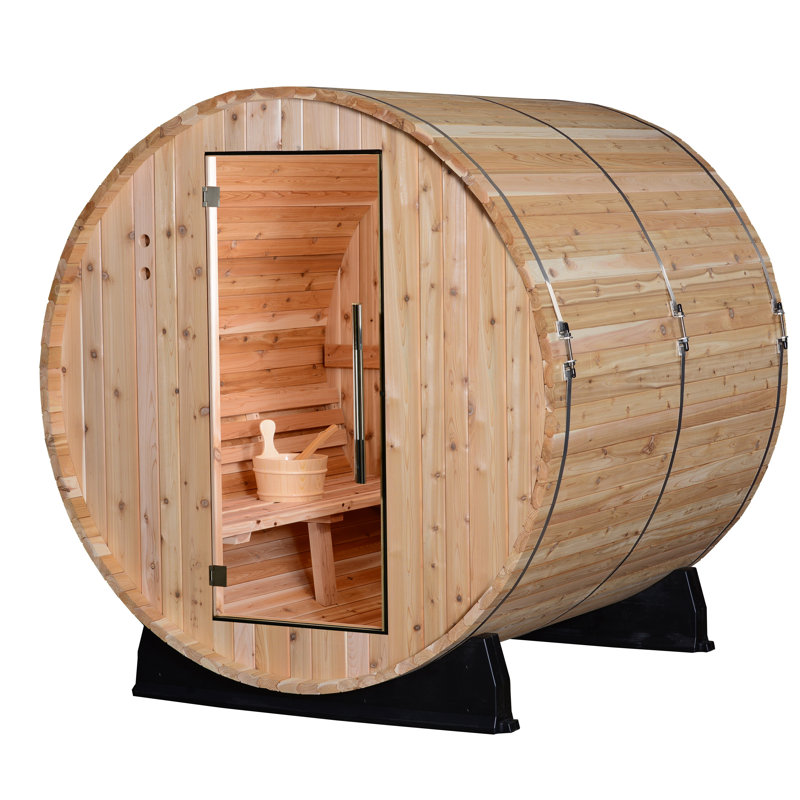 Features
Lighting is through LED
The sauna comes with a warranty
Weight: 675 lb
If you are looking for an outdoor sauna that is practical with seating capacity with a high quality stylish and sturdy finish, this is your option.
The classic design barrel sauna design ensures that the heat generated by the sauna heater circulates to the maximum within the sauna.
The circulation is further enhanced by the curved walls that dissipate heat to all places in the sauna.
It complements your surroundings as it is made using rustic western red cedar wood, visually appealing to many eyes.
The western red cedar wood used in making the sauna is thick enough for maximum insulation, making it ideal for indoor and outdoor use.
The ideal location of a vent in the sauna ensures a constant flow of fresh air despite the steam generated by the sauna heater.
You also get to enjoy using a timer that comes with the sauna by selecting the duration you would like it to run as you relax.
The sauna is hoisted off the ground using support cradles that are weather resistant and made from polymer for durability and to withstand any kind of weather.
PROS:
Elegant design using rustic red cedar wood
Comes with a timer for selecting the preferred duration
Can be used both indoors and outdoors
CONS:
A little bit congested for four people
#3. Watoga Cedar 4 Person Traditional Steam Sauna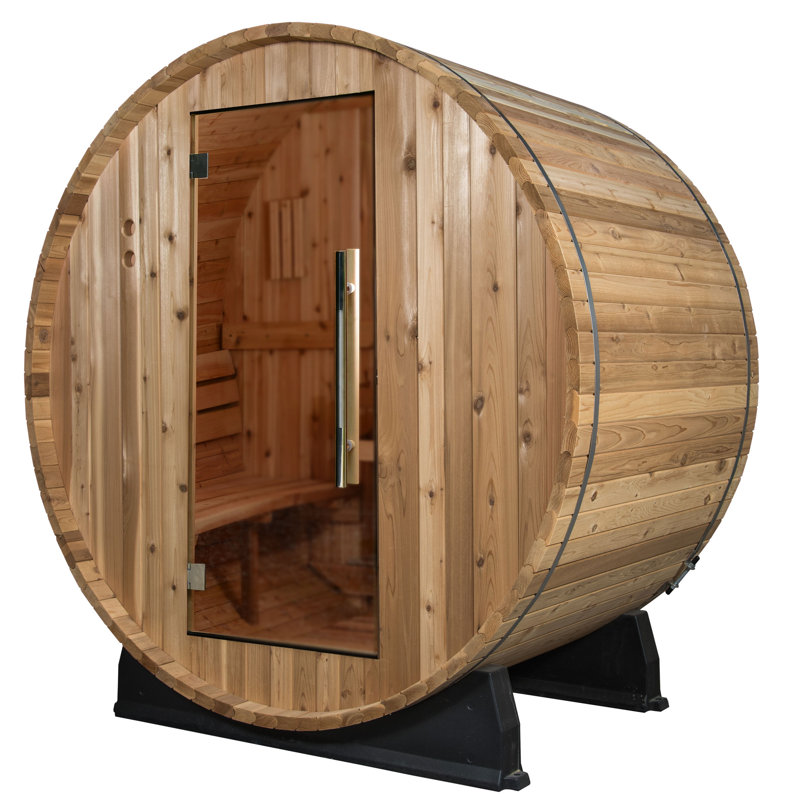 Features
Weight: 635 lbs
Utility capacity: 4 people
Product warranty: yes, limited
If you have challenges assembling a sauna, this should not be one of them since it is easy and straightforward.
It is made from top tier materials that are predominantly rustic red cedarwood.
Place it outside your house, and it will naturally blend into the environment, coupled with a glass door that is tempered.
It is fastened together using stainless steel bands, and its assembly is done by employing a ball and socket profile.
The fasteners ensure that the seal is reliable while at the same time allowing the red cedar wood to contract and expand based on the level of output from the sauna heater.
The inside of the sauna environment is made relaxing by employing an accented glow from an LED light bar giving you a soft appeal.
The sauna is suspended off the ground with the use of cradles which prevent it from encountering moisture from the ground.
PROS:
Easy to assemble
Product currently retailing at a 50% discount
CONS:
Not ideal for more than two people
#4. Salem Cedar 2 Person Traditional Steam Sauna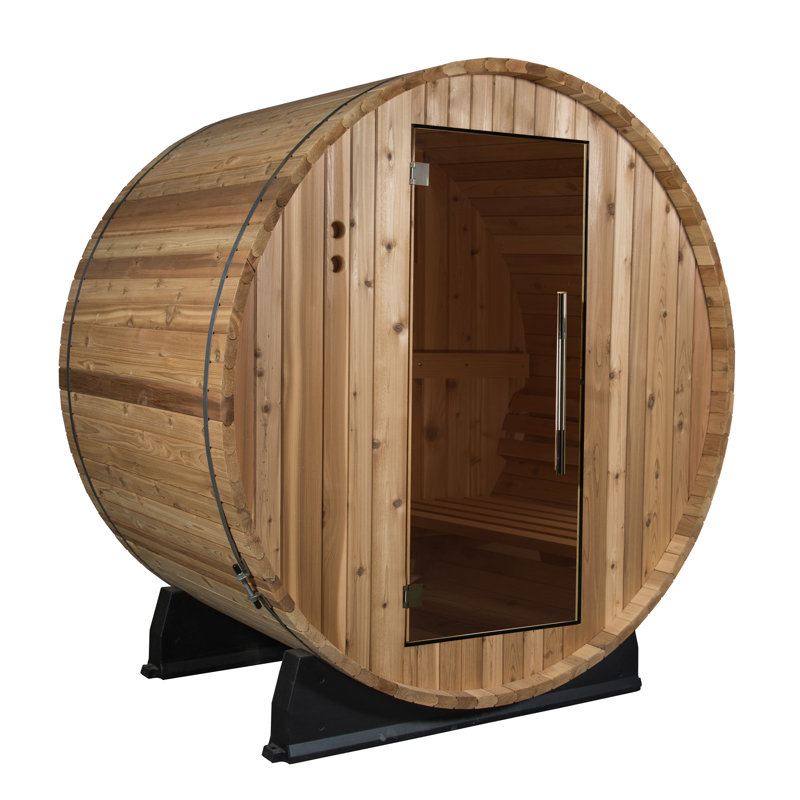 Features
Comes with an LED light control panel for a soft glow feel
Warranty to shield you from repair costs
Weight: 470 lbs
Enjoy the best health benefits associated with sauna sessions to your doorstep by purchasing and placing this brand in your home.
You have the option of placing it indoors due to its ideal size or outdoors as it can withstand the weather as well.
The sauna is positioned above the ground using two polymer supports, which make it durable by preventing any moisture from coming into direct contact with the outer surface.
The sauna is easy to assemble as it uses a simple technology of ball and socket that still allows it to be flexible with temperature changes.
A vent that is conveniently located in the sauna allows for the circulation of fresh air while the timer will enable you to determine the best duration of your relaxation.
When you want to catch a breather in between your sauna sessions, you can make use of the opposite benches located inside the sauna.
The tempered glass door at the entrance of the sauna adds to its exquisite features and naturally fits into your indoor or outdoor environment.
The sauna comes with a heater mounted on the interior wall that radiates heat evenly and will obey your timer instructions by shutting off automatically.
PROS:
Can be used both outdoors and indoors
Best sturdy build
CONS:
Due to its size, not ideal for more than two people
#5. Huntington Cedar 6 Person Steam Sauna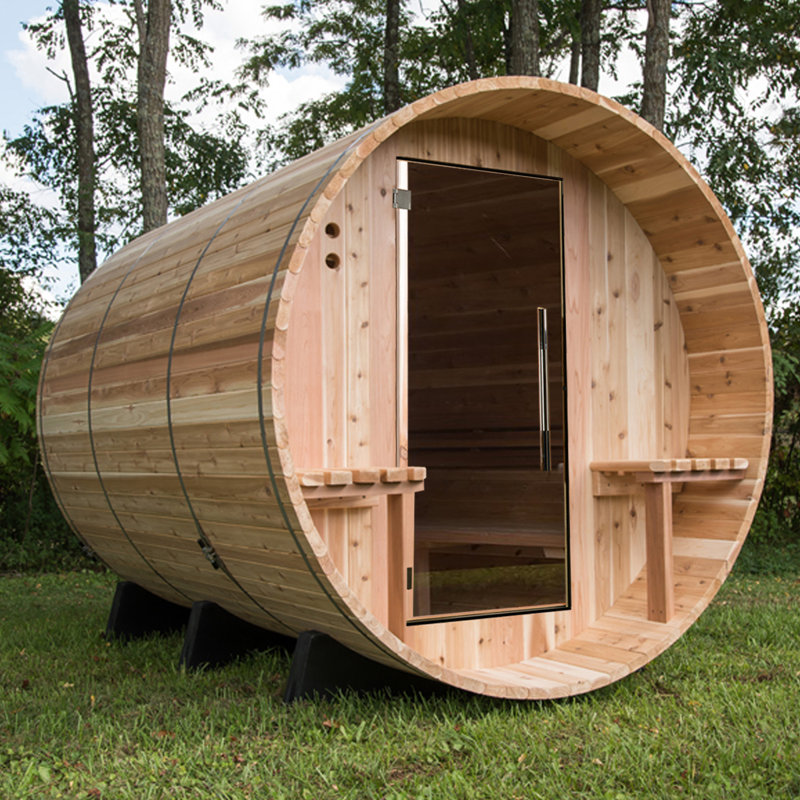 Features
Seats up to six people
Incorporates LED lighting
Comes with a warranty
Has exterior and interior benches
Do you wish to be in a relaxing environment but still be able to socialize and reconnect with family or friends?
If your answer is yes, then the Huntington brand is your ideal choice as it can comfortably sit up to six people!
It is among the largest outdoor saunas you can find with a barrel sauna design.
The sauna comes with two long opposite benches located inside the sauna and two small benches situated on the exterior under a canopy.
Like many saunas adopting a barrel sauna shape, this sauna has curved walls to ensure that heat is evenly distributed within the sauna despite its big size.
You can catch a breath on the outside benches while sipping a drink and socializing with a friend as you get ready for your next session of rejuvenation.
You can choose rustic fir wood or clear or rustic cedar wood depending on your preference and how it will gel with your environment.
The looks of the sauna are further enhanced with the door made of tempered glass, stainless steel, and several fasteners.
Depending on your preference, the sauna comes with a heater and sauna stones for a dry and wet sauna experience.
PROS:
Large and spacious enough for six people
Incorporates both dry and wet sauna experiences
Has a durable and visually appealing build
CONS:
It is time-consuming to assemble
Not ideal for an indoor arrangement
#6. Princeton 6 Person Traditional Steam Sauna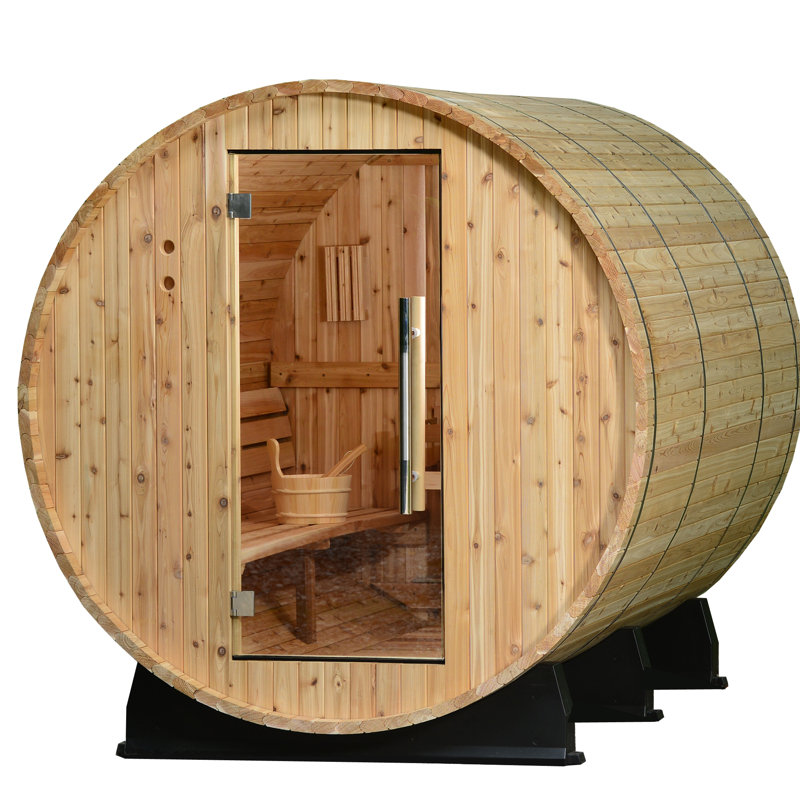 Features
Sauna comes with a warranty
Makes use of LED lighting
Weight: 835 lbs
Adjustable temperature: yes
The sauna has been a signature product for traditional steam saunas for about 40 years.
Interestingly, its simple yet highly effective design ensures maximum utilizable space in the interior while minimizing the space it occupies.
Looking at it from outside, you can almost disagree that the sauna can sit up to six people, which ensures efficiency in heating the sauna.
The rustic cedar wood used in the construction of this sauna is soft and doubles up as an insulator against heat loss to the environment.
The interior sauna atmosphere is made relaxing by using LED lights that give a soft glow while the timer control panel will allow you to determine how long you want to be in the sauna.
The sauna can be used both indoor and outdoor as it is ideal in size and still weather resistant when stationed outside, owing to its design.
To give you a dry and wet sauna experience, the brand comes with a heater and sauna stones to cater to your varying preferences.
With its seating size, it is possible to relax in your sauna while catching up with family or friends as there is enough room for them.
PROS:
Ideal size for use with more people
Can be used both indoors and outdoors
CONS:
Interior spacing is a bit crowded
Outdoor saunas – Buying Guide
Take your time to evaluate your needs for acquiring a sauna.
The type of sauna you settle on should be a reflection of your budget and needs.
What is good in a sauna for one person may not necessarily please another person.
Benefits of the best outdoor sauna
The best outdoor saunas will be able to accord you the health benefits like any other sauna, especially relaxation and rejuvenation.
Besides, the best outdoor sauna should have a sturdy build that will ensure that it lasts for the projected time.
What to look for when buying the best outdoor sauna
With the numerous brands, flooding the market, buying the best outdoor sauna is no walk in the park.
You need to be informed of the key features to look for that will inform your purchase while ensuring value for your money.
Watch out for the following.
The size of the outdoor sauna (small?)
Saunas come in different sizes based on individual needs and budget.
Choose a sauna that will suit your relaxation needs; a big family will require a big sauna and vice versa.
The design of the outside saunas for sale
Many people tend to overlook the design of the sauna by assuming that it is of no consequence, which is not correct.
The location of your sauna will influence the design you choose; barrel saunas tend to blend well with backyard locations while square saunas are taller and tend to fit into most spaces.
Outdoor dry sauna – Warranty
Outdoor saunas may break down during regular use, which may incur costs associated with repairs.
It is advisable to buy a sauna that is supported by a warranty to cushion you from repair costs during the warranty period.
Steer clear off saunas that come with no warranty.
The durability of the outdoor steam room for sale
Outdoor saunas are made from different materials catering to different segments and budgets of users. Red cedarwood and Canadian hemlock wood options are popular.
Look for a sauna that is made from durable material that will last longer and not get easily affected by weather changes.
Wood sauna for sale – Associated running costs
Outdoor saunas are powered by electricity for them to function.
Each sauna comes with a heater that is marked with a kilowatt rating, indicating its probable consumption of electricity.
Should you be on a tight budget, consider getting a sauna with a heater having a low kilowatt rating that will save you from high electricity bills.
Exterior sauna controls and features
Saunas have advanced over time by taking advantage of technology for automation, like timers.
Go for an outdoor sauna having a variety of advanced features like temperature control and timer to allow for safe operation and use of the sauna.
With advanced features, the sauna can store your preset temperatures, which makes it more user-friendly.
Outdoor home sauna – Frequently Asked Questions
Can saunas be outside?
Yes, saunas can be outside, and there is a variety of them being produced by manufacturers specifically for outdoor use.
Their build quality is made to withstand the outside weather.
How much does it cost to build an outdoor sauna?
On average, $ 3,500 should get you a decent sauna.
Which are better, sauna or steam rooms?
Both saunas and steam rooms deliver health benefits to their users.
One may not precisely be better than the other; it all depends on the health benefits you are pursuing.
Home outdoor sauna – Conclusion
Let's recap.
Outdoor saunas are currently a popular concept that many homes adopt for the health benefits that come with them.
It is no longer necessary to keep enlisting in your local gym to enjoy using their sauna while you can have one of the best wood saunas at home.
It is possible to have your sauna at home, and you can consider getting the Audra Cedar 4 Person Traditional Steam Saunato enjoy the full health benefits.
Alternatively, you can opt for the Pinnacle 4 Person Traditional Steam Sauna or Watoga Cedar 4 Person Traditional Steam Sauna since they are within the same price range and offer similar benefits.