Having a swimming pool at your home turns sunny afternoons into joyous moments as you may opt to have some good times with friends and family.
You no longer need to go to recreational centers to enjoy swimming during your free time, especially with the advent of above ground swimming pools.
Swimming pools also come with their share of maintenance procedures that you should adhere to if you want to continue using them safely. Here we come to pool fences.
Some of the measures include maintaining optimum water temperature, shocking your pool, and exposing it to sunlight by clearing any surrounding obstacles, among others.
The safety of your swimming pool is also a key factor to consider when having one at your home, to avoid accidents and anything that will render it unsafe.
Apart from adding aesthetics to above ground swimming pools, a fence around it is the best way of keeping children and stray animals from intruding.
As a homeowner with a swimming pool in the compound, you now have the task of shopping for the best above ground pool fence there is in the market.
Manufacturers have supplied the market with different brands to meet varying preferences ranging in budget and quality.
If you do not know which brand to go for, this article makes the work easy for you by looking at the four best above ground pool fences that you can buy.
Best Fences Around Swimming Pool – Options
#1. Wide Pool Fence DIY Flat Top Vinyl Gate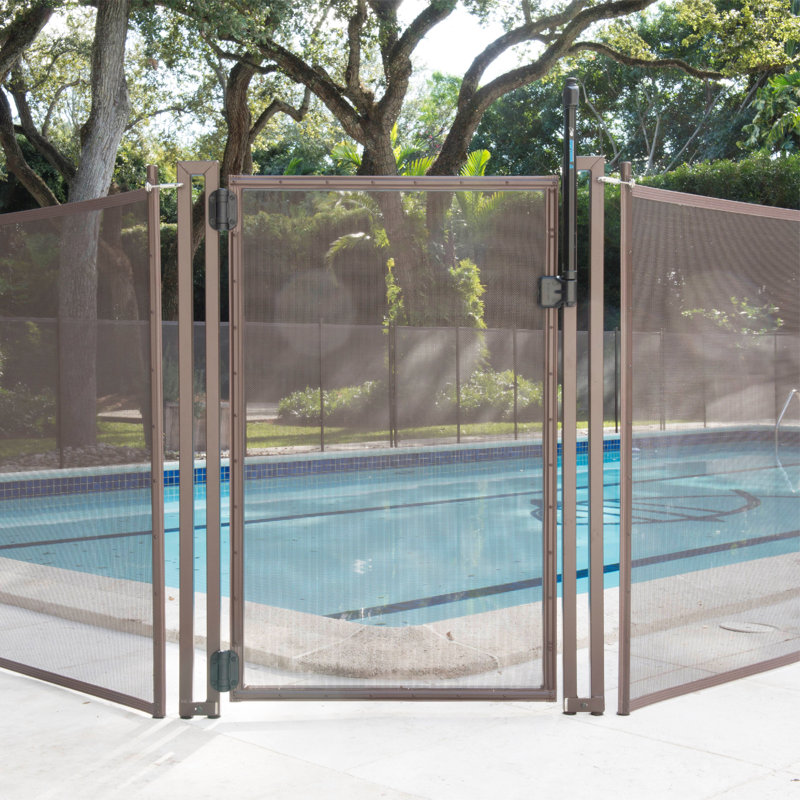 Features
Comes with a warranty
Resistant to weather
UV resistant
When you want to make sure of pool safety, you can't go wrong with Wide Pool Fence DIY Flat Top Vinyl Gate.
It is one of the best pool fence options and comes with advanced features like a self-latching and self-closing gates, ensuring that the pool gate never remains opens by accident.
The latching system is magnetic, making it more reliable together with a double truss that is positioned upright to enhance the structural rigidity of the fence.
When you are purchasing a pool safety fence, you have an option to choose the four or five feet high version that comes with a 30-inch gate walkthrough allowance that opens away from the pool.
The square stocks on the fence are made of aluminum and coated with powder, which produces a durable mesh pool safety fence.
The nylon mesh of the fence is coated with PVC meeting the industrial-strength requirement standard; hence quality is guaranteed.
No matter the weather condition, this fence will remain robust and will not fade or start developing rust on its surface.
The gate of the fence is user friendly to both left and right-handed people courtesy of the adjustable swing provided for you, which eases opening.
For concrete installation, the manufacturer makes it easy for you by including all the base kit hardware in the package except masonry stuff.
PROS:
The fence comes with all-round phone support
All necessary materials for installation are included
Durable due to its content and is resistant to weather
CONS: 
Noy easy to install
The product does not come with panel and masonry accessories
#2. Vinyl Works of Canada – Premium 24in Resin Above Ground Pool Fence Kits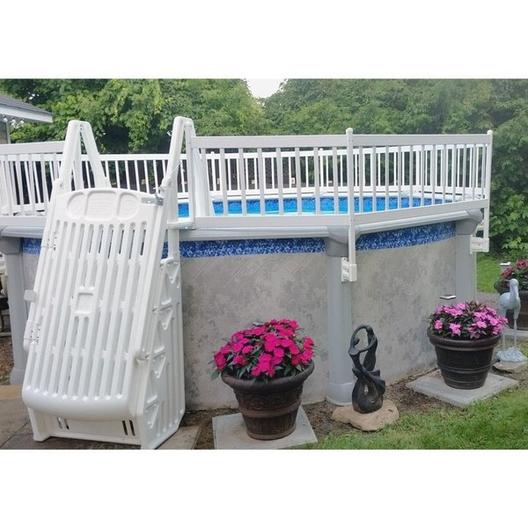 Features
Made of resin
Two feet high
Comes in taupe color
The fence is made up of different kits. Each fence section comes as a kit, and when assembled they form a safety pool safety fence.
The fence fits your swimming pool's size and shapes since the sections are joined together to form a safety barrier, thereby catering to diverse needs.
The manufacturer of this pool safety fence has ensured that it is easy to install by making it maintenance-free, thanks to is stainless-steel hardware.
The spacing between the pickets of this fence ensures that your pool area enjoys the free flow of air as the posts are openly spaced.
The fence works best when combined with ladders and entry systems, together with decks of vinyl to create a total enclosure around the pool, which keeps intruders at bay.
When purchasing this life saver pool fence, you need to know the measurement of your pool area, which will influence the number of sections you will buy and join together to create a fence.
Vinyl Works of Canada is a renowned manufacturer of pool fences, and you will enjoy this quality product for the safety of your pool and beauty around it.
PROS:
Can be installed for any pool size or shape
No maintenance costs incurred with the fence
Comes in an open-air design
CONS:
The height of the pool fence is a bit low
Works better with other accessories
#3. Vinyl Works of Canada – Economy 24in Resin Above Ground Pool Fence Kits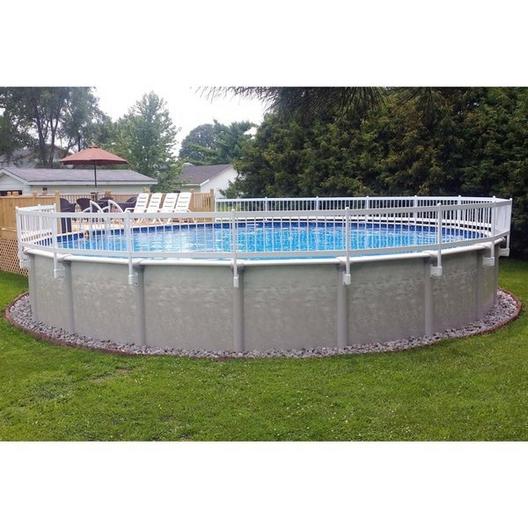 Features
Works with above ground pools
Comes in white color
The fence is made from a resin material
If you are looking for a right safety fence to be installed around an above-ground pool, your best bet is this brand of pool fences.
Apart from being affordable, the fence is maintenance-free, which cushions you from any expenses from maintaining it.
The mounting brackets of the fence sections are telescopic, which makes it easy to fit around any pool area during installation.
This fence for pool installations will ward off any intruders as it takes advantage of the pool's pre-existing wall as it measures 24 inches in height.
Despite the moisture generated around your swimming pool that can cause rust, the fence sections will retain their surface quality since they are made of stainless steel.
If you have vertical posts around your pool as part of the design, the fence is ideal since it easily mounts on such surfaces.
Your peace of mind is guaranteed by the one-year warranty that comes with the product, which allows for repairs at the manufacturer's expense.
The free flow of air around your pool area is not restricted when it is installed; its pickets are well spaced to allow for the free flow of air.
PROS:
Comes with a warranty to cushion you from unforeseen costs
Fits any size and shape of the pool
No maintenance costs
CONS:
Applicable to above ground pools only
The height of the fence could be enhanced
#4. Vinyl Works of Canada – 24″ Resin Above Ground Pool Fence Base Kit A, 8 Sections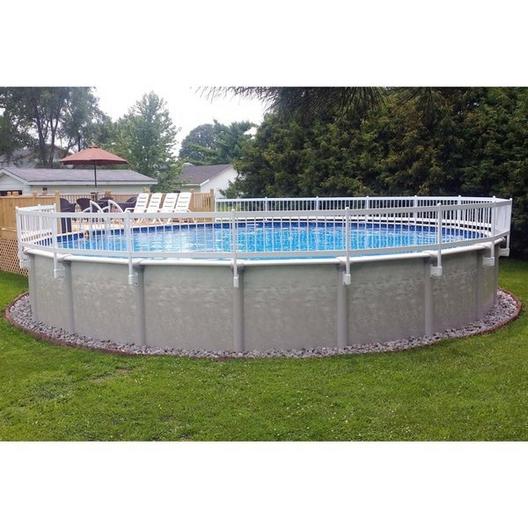 Features
Comes in eight pieces
Stands at 24 inches high
Product warranty: 1 year
Do you hate stray animals gaining access to your pool and the worry of kids going to the pool while unattended?
Worry no more, the solution lies in installing this above ground pool fence that is friendly to your pocket and will provide an excellent enclosure to your pool.
Pool fences like this one designed for pools above the ground can be used with a pool of any size or shape, as the wall comes in batches of eight sections.
The pool's hardware material is made from stainless steel, meaning that it is maintenance-free and will not corrode due to moisture coming from the swimming pool.
Installation instructions are included in the package to make it easy for you to erect the pool fences as per the manufacturer's specifications.
You will need a step system for ease of entry, and you should combine the fence with ladders and decks to ensure that your pool is protected and fully enclosed.
This fence comes with a removable section kit to easily access the pool without interfering with its structural installation.
You can add night aesthetics and enhance the environment by purchasing solar lights that are compatible with the fencing kit, which will attach directly to the fence's posts.
The visibility of the pool both from inside and outside, does not interfere with the spacing of the pickets, which lets you have a clear view of your surroundings.
PROS:
The fence is maintenance-free.
Can be installed for any above ground pool
Pool visibility is retained
CONS:
Installation can be challenging for many.
Not suitable for below-ground pools
Buying Guide For Pool Fences
When it comes to pools, fences are essential for safety. To buy a fence for an above ground pool, it is vital to consider crucial factors that will help you to get the best fences for pool installations at home.
The fence is an essential lifesaver and safety feature that will prevent children from going to the pool while unattended and keep away pets and stray animals. Take a look on our automatic pool cleaner review here.
Therefore, it is vital to make an informed choice to get the best pool fence, one that serves its intended purpose while delivering value for money.
Benefits of Fences Around Your Swimming Pool
A right fence will help keep everyone safe and reduce cases of children drowning when unsupervised.
Besides, the right pool fences will also keep pets such as dogs and cats from entering when there is nobody in sight.
A right fence will also add to the beautiful view by mounting solar lights on it for aesthetics when night falls.
Features to Consider When Buying an Above Ground Pool Fence
Buying a fence is not an easy and straightforward assignment if you must get the best product that meets your needs.
Several factors come into play when shopping around for the ideal fence, and they include the following:
Knowing The Size of Your Pool Helps When Looking for Pool Fences
The size will determine the type of fence to go for since some fences come in fixed sizes while others come in pieces that can be joined together.
Before venturing out to the shops, be armed with the pool's measurements, which will help the seller to give you the ideal matching fence.
Does The Fence Around Your Pool Vary According To The Pool Shape?
Above-ground pools come in different shapes depending on your preference, such as circle and rectangular, among others.
Most fences will fit any pool shape while others are designed for a specific way.
As you visit the shops, you need to disclose to the seller the shape of your pool to get a fence that matches it.
Fences For Pools – Durability
Go for a pool fence that will last long and limit any expenditure on maintenance and replacement of the pool fence.
Ideally, consider buying a pool fence that is maintenance-free for your peace of mind.
Pool fences made of stainless steel will not corrode due to the moisture produced by evaporation from the swimming pool water, it retains its original form for a long time.
Pool Fences – Compatibility and installation
Some pool fence will be a straight fit for your pool structure, while others will require modifications.
Go for a fence that is compatible with your swimming pool wall and is easy to install with a clear installation guide from the manufacturer.
An incompatible fence that is complicated to install will lead to additional costs for expert installation and may not adequately serve the intended purpose.
Frequently asked questions
Do I need a fence around my above ground pool?
Yes, you need a fence for safety purposes, one that keeps away stray animals and pets and keeps the pool inaccessible to children when they are unattended.
What is the best pool fence?
The best pool fence is the Wide Pool Fence DIY Flat Top Vinyl Gate.
How do you fence an above ground pool?
The pool is fenced by mounting a compatible fence around the structure of the swimming pool. In this case, using the wall of the pool or surrounding posts is normal.
How tall should a pool fence be? 
Ideally, a pool fence should be two feet minimum in height.
Conclusion
Let's recap.
The safety of your pool is something you cannot ignore.
As discussed in this article, above-ground pool fences from a reputable brand will be ideal for your needs.
The Wide Pool Fence DIY Flat Top Vinyl Gate is your top bet when you shop for the number one brand in the market due to its unrivaled quality.
The Vinyl Works of Canada – Premium 24in Resin Above Ground Pool Fence Kits are ideal as they come in pieces to suit the size and shape of your swimming pool.
If you are on a budget, you have not been left out, as the Vinyl Works of Canada – Economy 24in Resin Above Ground Pool Fence Kits will serve you right and keep your pool protected with enhanced aesthetics.